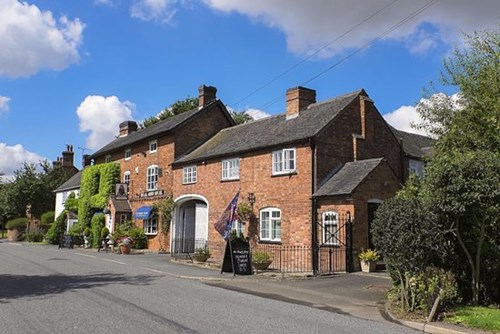 New homes and green space proposed for Bosworth Battlefield village of Sutton Cheney
Added at 18:52 on 24 August 2021
An exciting new development is being proposed for the historic village of Sutton Cheney.
Owners of The Royal Arms, a hotel, restaurant and wedding venue, have applied for planning permission to convert the complex of buildings into 9 new high-quality homes, including a community building, green open space as well as the retention of the popular and historic pub.
Plans were developed in close consultation with the local planning authority and the parish council. Cllr Andrew Copson, parish councillor for Sutton Cheney, said, "During consultation with villagers, three concerns came up most prominently. Villagers wanted to keep a pub, they wanted development of homes to be in keeping with the historic environment, and they hoped for a new green space for the village. It's been a pleasure working with the developer to see these delivered in the plans.'
The proposed development would restore the historic identity of the pub as The Greyhound Inn. The Greyhound was believed to be a coaching inn since the nineteenth century, before it became, as The Royal Arms, a popular wedding and party venue. The historic pub will be retained under the proposals.
All new homes will also be developed within the existing buildings, meaning that the character of the conservation area can be retained.
The new green space for the community will be the first public green space in the village of Sutton Cheney in its long history and would include a play area for children as well as a new community pavilion, granted by the hotel owners to community ownership through the parish council. It will provide over 2500sqm of open green space and public toilets for walkers on the popular Leicestershire Round cross country walk.
A representative for the Royal Arms Hotel has advised that the planning process will not stop the business from continuing to trade and they look forward to continuing to welcome clients in these currently challenging market conditions.
The planning application is expected to be submitted to Hinckley and Bosworth Borough Council before the end of August 2021.