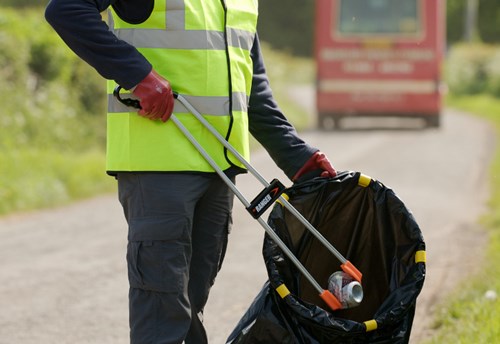 Litter picking heroes offered support from County Council
Added at 23:10 on 20 February 2021
Leicestershire County Council is supporting local litter picking groups - often called wombles - by pledging to help them access the equipment they need.
Across Leicestershire, there are hundreds of groups who collect litter from Leicestershire streets, parks, verges and other public spaces.
Now, practical support is being offered through a new fund which will supply these groups with road signs and hi-vis jackets to help keep them safe, and extra-long litter pickers to reach under bushes and hedgerows.
Councillor Louise Richardson, cabinet member for communities, said: "Womblers provide a vital community service. The benefits are numerous - litter-picking keeps our public spaces clean, aids wildlife, promotes walking and increases recycling.
"That's why we want to support our local groups by giving them the equipment they need. It's a great example of how we can support and empower our communities to make a difference in their area.
"I applaud our womblers and hope that our support bolsters their brilliant work."
The new scheme launches today (Wednesday) - to find out how to get this equipment for your group, visit: www.leicestershire.gov.uk/litter-picking
The project joins the package of financial support recently championed by the council which included a dedicated pot of cash for Leicestershire's volunteer groups, pubs and small businesses.