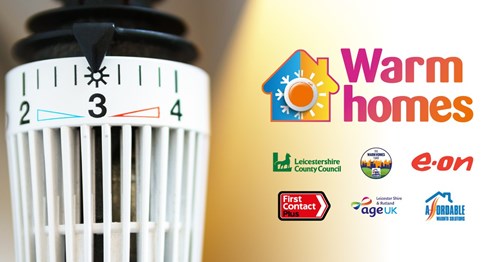 Grants for first-time central heating and connections to gas
Added at 13:30 on 08 April 2021
Leicestershire County Council's Warm Homes service is working with E.ON to provide people across the region with free, first-time gas central heating installation, and is urging eligible residents to apply now.
The Warm Homes Fund was established by National Grid and is administered by community interest company Affordable Warmth Solutions.
The Leicestershire project will primarily offer the installation of fully funded, first-time central heating for up to 500 eligible private sector homeowners and tenants on lower incomes. For rented properties, a landlord contribution of £750 is required.
Households with standalone gas appliances or those that are not connected to mains gas at all and currently rely on other more expensive forms of heating, for example old electric storage or panel heaters, could be eligible.
In addition, eligible residents may be able to receive free insulation measures for their homes, as well as benefit from free energy efficiency advice and support to maximise income from Age UK Leicester Shire and Rutland.
Residents can find out more or apply to the Warm Homes Fund via First Contact Plus on 0116 305 4286, or by visiting www.leicestershire.gov.uk/warm-homes-fund